FO 150 FOIL-TACK M+S
Super tight as ever,
powerful as never before
Floor-to-ceiling base sealing
The new generation special sealing strip
Further developed for permanent, universal safety at the highest level: robustness, waterproofing, installaion and reliable results – TEROSON FO 150 FOIL-TACK M+S has been consistently setting standards as a special sealing strip with unique performance features for years – and is thus a permanent asset in facade and window construction.
From now on, you will benefit from even higher performance values including full DIN 18533 conformity and an even wider range of applications – now also clompaint with the part W 1.1E & W 1.2E (critical floor connection areas).
Reliable and universal sealing all year round – with the new, comprehensively optimised TEROSON FO 150 FOIL-TACK M+S.
Floor-to-ceiling base sealing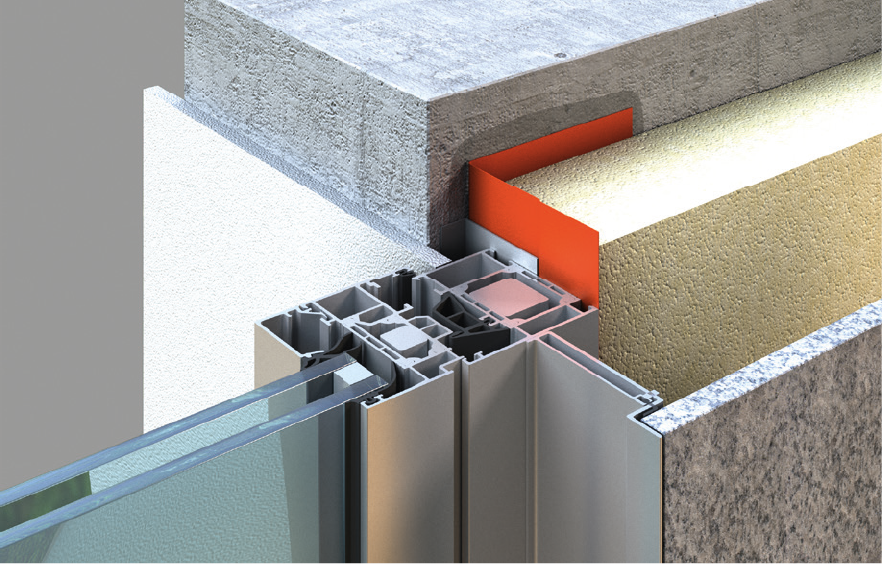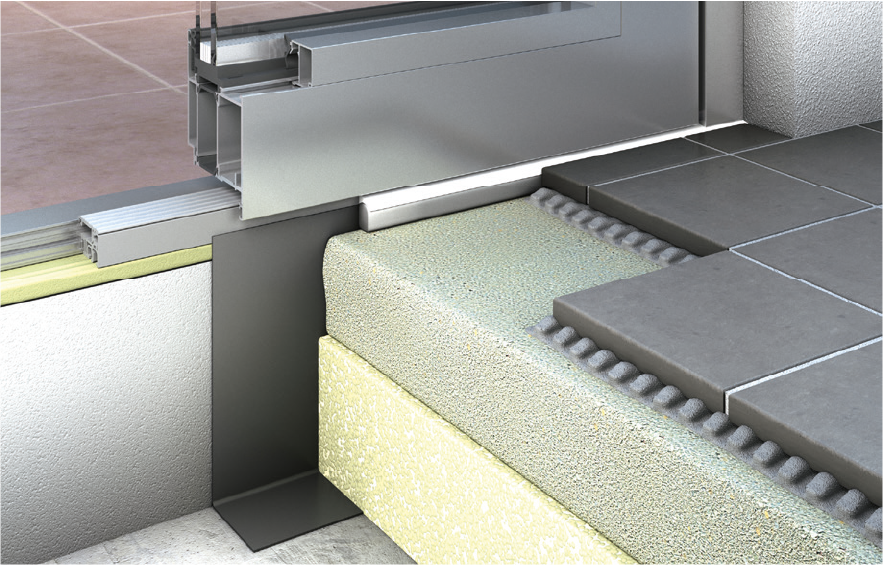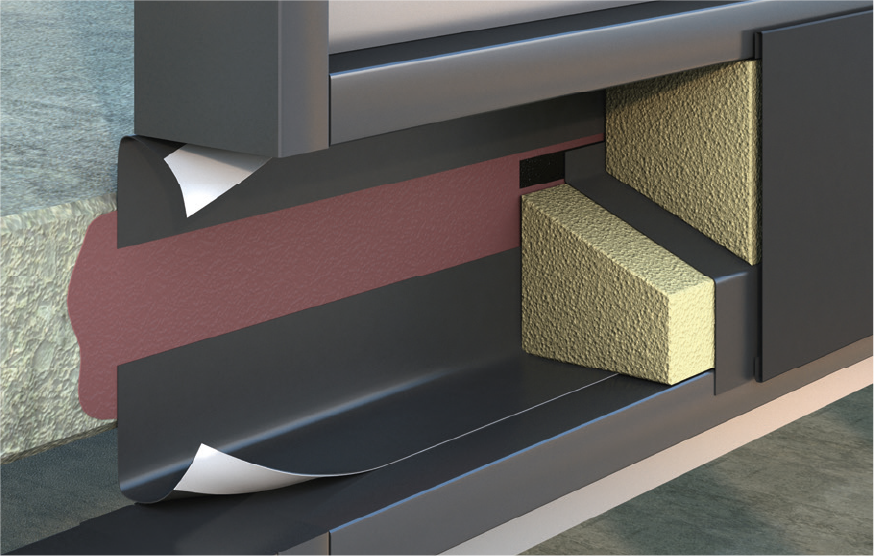 Sealing the lintel and window base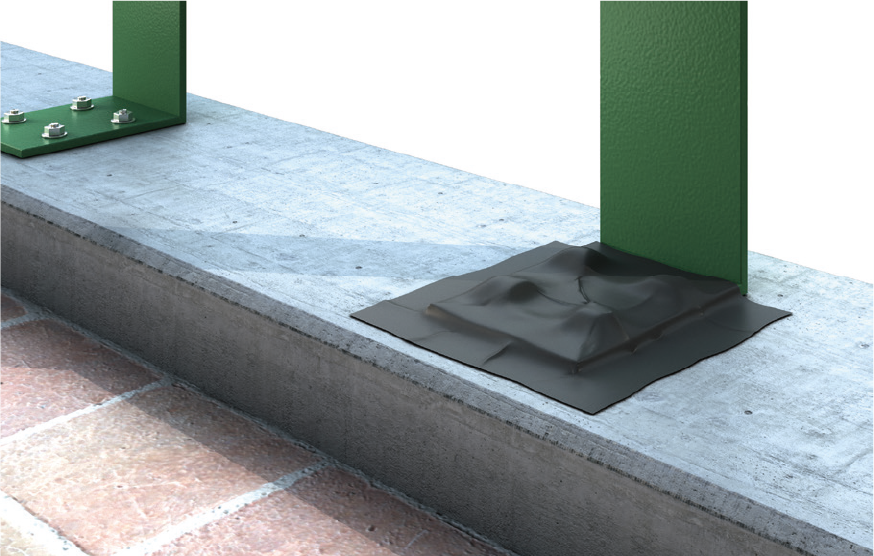 High-tech adhesive teamed up with TEROSON waterproofing expertise
Hotmelt adhesives are a key competence of Henkel, the worldwide leader in Adhesive Technologies. When combining TEROSON's high expertise in window and facade sealing with the latest generation of hotmelt adhesives, the outcome can only be an innovative solution with unique application features. Here the advantages of working with hotmelts:

WET ADHESION
Hotmelt technology stands for very high bonding strength even on wet window frames. No need for time- and labor-consuming preparatory work like the removal of moisture.

KEYING EFFECT (MICRO-MECHANICAL ADHESION)
Hotmelt technology ensures powerful adhesion to all mineral building materials. The delayed cross-linking process produces a strong bond with the masonry, resulting in exceptionally high final strength.

EASE OF APPLICATION
Hotmelt technology ensures a sealing strip of low weight that offers quick and comfortable installation. Thanks to the practical TEROSON finger lift, the strip can be quickly pulled off the protective film – even with gloves.

TIME SAVINGS
Hotmelt technology allows much faster progress on site – even at temperatures down to -5 °C. As a result, the sealing strip can be used all year round, thus helping to prevent weather-related downtimes and construction delays.

SAVES NATURAL RESOURCES
Hotmelt technology also offers advantages in terms of "ecological building": Thanks to its outstanding adhesive properties, it is 50 % more resource-efficient than conventional bituminous sealing products.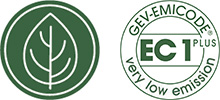 TEROSON FO 150 FOIL-TACK M+S
A totally convincing performance – in every respect
The new TEROSON FO 150 FOIL-TACK M+S is the product of choice for the effective, trouble-free and permanently tight sealing of facades on the warm side of buildings. Compared to the previous generation, the new FO 150 has been significantly improved, now offering more robustness and higher bonding strength. Advanced hotmelt technology and the total absence of bitumen ensure that the sealing strip is lighter and thinner – and thus more flexible and easier to handle.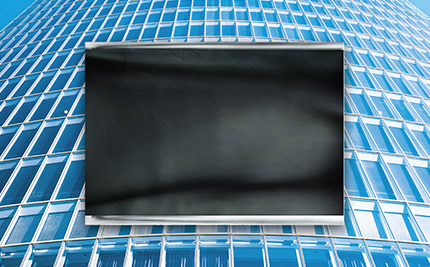 Meets the requirements DIN 18533
Immediately watertight, water-impermeable as well as diffusion- and airtight
Optimized adhesion to wet window frames, comfortable time window for repositioning the strip
Asymmetrically divided PE carrier film instead of release paper – no tearing, no fiddling around with the paper
Self-adhesive over the entire strip surface, instant adhesion without need for additional mechanical fastening overhead
Very high initial tack, extremely powerful direct bonding of "strip on strip"
Finger lift on 3 sides of the strip to ensure quick and comfortable handling
Highly tearproof and easily moldable to the surface – ideally suited for sealing base areas
Easy, effortless installation thanks to significantly reduced area weight
Bitumen-free and bitumen-resistant
*compared to the previous product generation
Products in the TEROSON system:
Reliable, long-term protection
TEROSON FO 150 FOIL-TACK M+S
Full-surface self-adhesive special sealing strip, water-, air- and diffusion-tight, equipped with hotmelt technology
Diffusion-tight
Thin, light-weight but highly robust
Very fast and user-friendly installation
Can be repositioned
Powerful adhesion even on wet window frames
Bitumen-free and bitumen-resistant
Can be used all year round (down to -5 °C)
Meets the requirements DIN 18533 for floor connection areas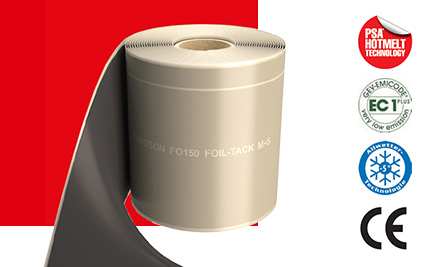 NOW EVEN EASIER TO INSTALL:
TEROSON FO 150 FOIL-TACK M+S is now equipped with an additional cut in the release film (all versions from 300 mm upwards). This makes installation much easier in the corner areas and when working without a second pair of hands. Work is now even safer, easier and faster.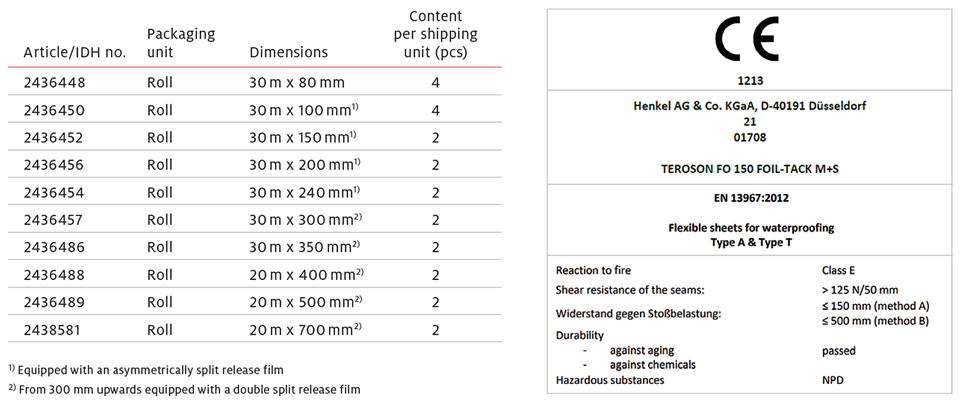 Product variants
TEROSON FO 150 FOIL-TACK M+S
FOLDER
TEROSON FO 150 FOIL-TACK M+S